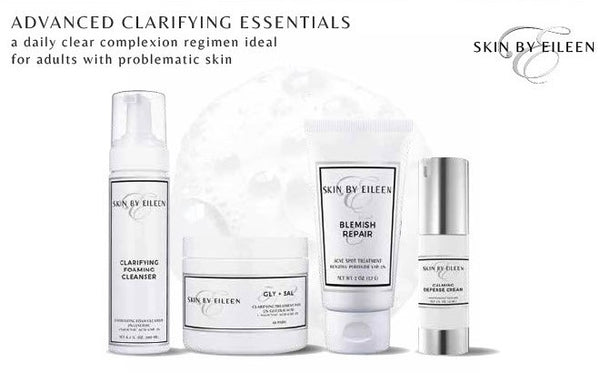 Advanced Clarifying Essentials
The Advanced Clarifying Essentials Kit by Skin By Eileen, is a daily clearing complexion regimen which is ideal for adults with problematic skin due to all types of acne.
This Kit includes:
Clarifying Foaming Cleanser- this specially formulated oily skin cleanser delivers ultra pure glycolic acid and salicylic acid USP, 2 % for gently cleansing acne prone and oily skin.
NON-IRRITATING; SOAP-FREE CLEANSER; pH BALANCED
Gly + Sal Pads- An exfoliating pairing of medical grade Salicylic Acid USP, 2% and Glycolic Acid help to effectively treat breakouts, remove bacteria and unclog pores, to clear skin and achieve a healthy, smooth complexion.
5% GLYCOLIC 2% SALICYLIC ACID; BRIGHTENING; SMOOTHS COMPLEXION
Blemish Repair- Effective Spot Treatment with medical grade Benzoyl Peroxide USP contains antibacterial properties to eliminate acne causing bacteria and prevent future blemishes from forming. Cleanse skin thoroughly before use, apply a thin layer daily, then gradually increase to two to three times daily.
ANTI-BACTERIAL; SPOT TREATMENT; REDUCES REDNESS + IRRITATION
Calming Defense Cream- Three of the most potent antioxidants known combine in this antioxidant face cream to help calm, soothe and guard skin against free radical damage. Formulated with 90% green tea polyphenols, resveratrol and fortified with caffeine, USP.. CAN BE USED AS A MOISTURIZER FOR ACNEAIC SKIN
VISIBLY REDUCES THE APPEARANCE OF:
SKIN REDNESS; PORE SIZE; PUFFINESS